Peanuts Improve Cognitive Function and Reduce Stress!
Foggy thinking?  Forgetful?  You are not alone. Many healthy individuals are frustrated that their memory and cognitive skills are not what they used to be. Surprisingly, there is help with a common, delicious food that recent research found, via The ARISTOTLE study published in Clinical Nutrition on September 22, 2021. This groundbreaking research shows improved cognitive function and reduced stress in healthy young adults. 
That special food?  Peanuts and peanut butter. This research is excellent news for all ages.  Generally we see marked improvements in research studies with participants who are not at optimal functioning for the area being studied and thus, would likely show a greater improvement than a healthier population. In this case, all participants were healthy.  
"This is first-of-its-kind research that points to the potential 'brain benefits' of peanut and peanut butter consumption in a younger demographic," explains Dr. Samara Sterling. "The results show that a small addition to the diet can have a significant impact." 
While the ARISTOTLE study conducted by the University of Barcelona was among mostly college-age students, previous studies have focused on the benefits of peanut and peanut butter consumption among seniors or those with underlying health conditions.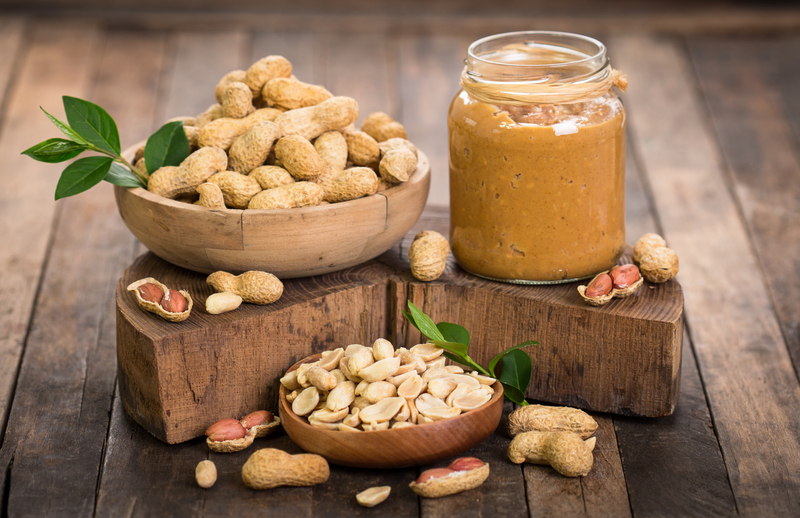 A 2021 study published in the Journal of the Prevention of Alzheimer's Disease found that adults 60 to 80 years of age who did not eat peanuts and peanut butter regularly were 30% to 50% more likely to do poorly on tests measuring learning, memory, language, processing motor speed (the time it takes to process and react to information) and attentiveness compared to those who did.
"When you break down the nutritional structure of peanuts, they have a unique combination of vitamins, minerals and bioactive compounds, including resveratrol, niacin, vitamin E and coumaric acids, that can contribute to cognition and mental health."  ~Dr. Samara Sterling, The Peanut Institute Research Director
What is vital to know is that micro-nutrients have a major impact upon our gut health and overall health. The gut-brain connection is an important piece of cognitive health and research shows that peanuts contribute to that positive end-result. There is a powerful beneficial effect of dietary polyphenols which are antioxidants found in peanuts and peanut butter. 
What makes peanuts and peanut butter so beneficial for cognitive function and stress reduction?
Peanuts are rich in polyphenols and various fatty acids in peanuts likely contributed to these positive results. It is important to note that peanuts are rich in bioactive compounds that may have a positive impact on memory and stress response. Additional vitamins, minerals and bioactive compounds found in peanuts that are beneficial for brain health include: 
Niacin: In a study of adults 65 and older, those who consumed more niacin showed a slower rate of cognitive decline and a 70% reduced risk for Alzheimer's disease — peanuts are an excellent source of niacin. 
Vitamin E: Found to promote healthy brain aging and delay cognitive decline caused by Alzheimer's disease. Peanuts are considered a "good source" of vitamin E. 
Resveratrol: A bioactive antioxidant found in peanuts, resveratrol is believed to be beneficial in fighting against Alzheimer's disease, parkinson's disease and other nerve degenerative disease. Resveratrol can have protective effects, such as helping to prevent cancer, telomere length and inflammation.
p-coumaric Acid: Antioxidant that appears to target the neurotransmitters in the brain that regulate mood, stress and anxiety. In 2014, authors of a study on p-coumaric acid noted that it may have similar effects for reducing stress as a leading anxiety-reducing drug, Diazepam.
Other nutrients that contribute to the plethora of health and weight benefits of peanuts include:
✱Vitamin E
✱Choline
✱Unsaturated Fats
✱Fiber
✱High Protein
Even peanut skins have been found to deliver benefits!  A 2016 randomized controlled trial found that peanuts eaten with skins improved both cerebrovascular and cognitive function in men and women. 
There are other ways to enhance health with peanuts outside of snacking on peanuts or peanut butter. It's nice to know that, "Yes, there are healthy foods that taste amazing."  How about Thai Chicken and Peanut Lettuce Cups or this Creamy Decadent Peanut Butter Pudding to start?  
Creamy Peanut Butter Pudding
Ingredients:
1 ½ cups skim milk
½ cup half and half
½ cup sugar (or sweetener of choice)
1 ½ tablespoons cornstarch
2 tablespoons unsweetened cocoa powder, sifted
½ teaspoon vanilla extract
1/3 cup creamy peanut butter
2 tablespoons lightly salted peanuts, chopped
Instructions:
Whisk together the milk, half and half, sugar, cornstarch, cocoa powder and vanilla extract in a medium saucepan. Cook, stirring, until the mixture is thick and bubbly, 6-7 minutes. Remove from the heat and whisk in the peanut butter until smooth. Evenly divide the pudding among 6 small bowls. 
Sprinkle the top of the puddings with the chopped peanuts. Serve warm or cover with plastic wrap and refrigerate until ready to serve. 
Calories: 223, Protein: 7g , Carbohydrates: 28g, Fiber: 2g,
Fat: 11g, Saturated Fat: 3g, Cholesterol: 9mg, Sodium: 106mg
When it comes to our health and the health and well-being of our family, it is important to know that peanuts provide a means to help optimize our full strength and vigor as well as freedom from inflammation, illness, disease, weight gain and poor brain health.  Small choices really do add up!
Resources:
Parilli-Moser, I., et al., Consumption of peanut products improves memory and stress response in healthy adults from the ARISTOTLE study: A 6-month randomized controlled trial. Clinical Nutrition, 2021.h ps://doi.org/10.1016/j.clnu.2021.09.020 
Katzman, E.W., Nielsen, S.J. The Association between Peanut and Peanut Butter Consumption and Cognitive Function among Community-Dwelling Older Adults. J Prev Alzheimers Dis (2021). https://doi.org/10.14283/jpad.2021.32 
Li, M., Shi, Z. A Prospective Association of Nut Consumption with Cognitive Function in Chinese Adults Aged 55+ _ China Health and Nutrition Survey. J Nutr Health Aging 23, 211–216 (2019). https://doi.org/10.1007/s12603-018-1122-5