Easy Low-Carb Chicken Lettuce Wraps
Who doesn't love Taco Night?  As you can see, my dog 'Tessa' loves it too!  :)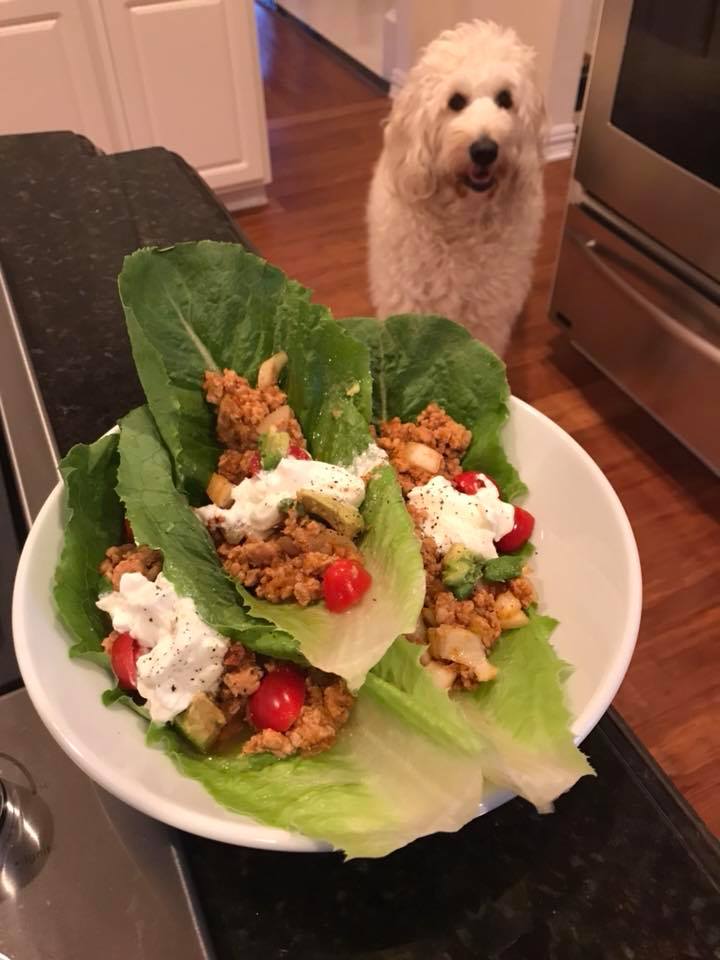 You can have your delicious tacos while swapping the conventional carb-laden tortillas with lettuce leaves while ramping up your health with this easy Chicken Taco Lettuce Wraps recipe!  Perfect for low-carb, keto or any healthy diet.
Here is an easy recipe for Chicken Lettuce Wraps:
Ingredients:
1.5 lbs ground chicken or turkey thighs
1 packet of taco seasoning
1 small onion, minced
2 tbsp bell pepper, minced
3/4-1 cup chicken broth
4 oz can tomato sauce
Sea salt to taste
8 large lettuce leaves from Romaine or Butter Lettuce
Shredded cheddar, sour cream, diced avocados or chopped tomatoes for topping
Directions:
Brown chicken in a large skillet breaking it into smaller pieces as it cooks.
When no longer pink add taco seasoning and mix well.
Add the onion, pepper, chicken broth, salt, tomato sauce and cover. Simmer on low for about 20 minutes.
Wash and dry the lettuce.
Divide the meat equally between the 8 leaves and place in the center of each leaf and top with your favorite taco fixings!  Enjoy!
©2018 DLS HealthWorks, LLC.  Lori Shemek, PhD health expert and weight loss expert.  Author of How To Fight FATflammation! and the best-selling author of  'Fire-Up Your Fat Burn!'