Add Handstands to Your Fitness Training and Get Amazing Benefits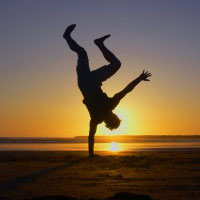 Go into most gyms today and I doubt that you'd see anyone doing handstands. Yes, there are a few that still do or has brought them back. Yet, they are one of the best overall body exercises that one can do. Back in the early 20th Century, handstands were quite common. What we look upon as amazing today was "ho hum" back then. In fact, bodyweight training of any kind was common back then.
Not only do handstands build strength in the arms and shoulders, they also build the core as well as the back. To do a straight free-standing handstand (hand-balancing), the core really has to be engaged.
I first started doing them against the wall, with my legs and back curved. Just holding them for a long period of time takes practice and strength. Eventually, moving away from the wall can be a goal in order to get to hand-balancing. Before doing that, make sure that you can roll out of it. Too many people get hurt when they don't have that skill. You can practice it by starting against a wall with your back facing away. Then practice rolling forward from the handstand. Wrist flexibility is important, so make sure to do proper warm-ups and stretching of that area. Here's tutorial that can help you develop your handstand.
Practice makes perfect. Make sure to build up strength in your arms and shoulders. Let me make this suggestion, do plenty of push-ups with proper form. When you can do at least 15 good form push-ups, then do wall handstands. Progress from there into hand-balancing. The benefits you'll get from doing handstands are…
Increased upper body strength
Abdominal muscles are stretched and strengthened.
Pressure on the heart due to gravity will be lessened.
Better balance, coordination and flexibility, particular of the wrists, arms and shoulders.
Stronger core muscles as well as a more stable body.
Spine is strengthened.
Circulation as well as the endocrine systems are improved.
Lowers depression and increases mental focus/concentration.
You can do them every day. Make sure to breathe properly. Many have felt inner ear pressure. Again, it's about progression. Don't try to do it all at once, unless you already have experience. Eventually, you'll surprise yourself and others around you. Keep at it.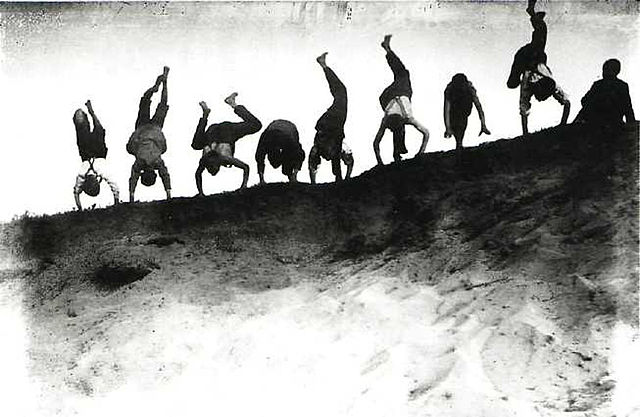 I wish you a healthier and fitter life in all aspects. Go for the strength, flexibility and balance all the time!
Cheers, Bob Choat

"Transformational Master Black Belt" America's #1 Mind-Body Transformation Expert and author of Mind Your Own Fitness
bobchoat.com | optimallifeseminars.com