9 Signs You Could Be Magnesium Deficient
Magnesium deficiency is widespread and many do not realize they may have one. Magnesium is the single most important nutrient for health – it is a key critical nutrient for over 300 different chemical processes in the human body. Magnesium helps maintain normal nerve and muscle function, keeps our blood pumping effectively and ensures healthy and strong bones among numerous other roles.
Modern times have evolved from an age where there was rarely a magnesium deficiency to now – a day and time where deficiency is rampant. 90% of our population is reported to be lacking in this precious mineral and they are suffering symptoms that can be traced back to this ubiquitous deficiency. You may not be getting enough of it even if you eat a healthy diet…
Why is Magnesium Deficiency So Pervasive?
Our soil has become extremely depleted of nutrients and the plants that grow in the soil have very little uptake. The meat we eat contains a negligible amount as the animals that feed on the plants have a decreased intake of magnesium as well. 
Increased consumption of processed, refined foods
Low intake of green leafy vegetables such as spinach
Alcohol use doubles the excretion rate of magnesium
Type 1 and Type 2 Diabetes increases the rate of excretion
Gastrointestinal conditions such as Chrohn's Disease or Irritable Bowel
Diet and supplementation are key to optimizing a magnesium deficiency. If supplementing, it is important to choose the right variety. The best bio-available form of magnesium is magnesium citrate or magnesium chelate.
9 Signs You May Have a Magnesium Deficiency
Stress and Anxiety
Inflammation
Muscle Cramps and Twitching
Calcification of Arteries
Palpitations
High Blood Pressure
Insulin Resistance
Insomnia
Weight Gain
Foods Highest in Magnesium
Swiss Chard
Pumpkin Seeds
Spinach
Dark Chocolate
Black Beans
Mung Beans
Avocado
Brussel Sprouts
Consider supplementation or a diet high in magnesium-rich foods.  Without this crucial mineral, your body simply cannot function optimally.
Magnesium Rich Recipe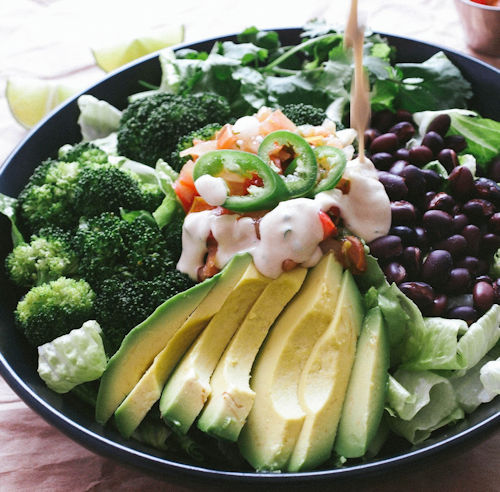 BLACK BEAN, BROCCOLI & AVOCADO SALAD + CUMIN LIME TAHINI DRESSING
Ingredients
2 romaine hearts, chopped
1 can (15oz.) black beans, drained and rinsed
1 1/4 cup broccoli florets, steamed
1 avocado, sliced
1/3 cup pico de gallo
cilantro sprigs
1 jalapeno or serrano chili, sliced and most seeds removed

Dressing
3 heaping tablespoons tahini
1/3 cup water
juice of 1 lime
1/8 teaspoon cumin
pinch of salt
2 teaspoons finely chopped cilantro
In a small bowl, combine the dressing ingredients, except for the cilantro. Use a tad more water as needed to thin. If dressing is too thin, add more tahini. Once blended to your liking, taste for flavor, stir in cilantro and set aside.
Steam your broccoli just until al dente and bright green using a bamboo steamer, double broiler or preferred method.
Add romaine to your serving dishes, top with black beans, broccoli, avocado, pico de gallo, a few sprigs cilantro and slices of chili peppers. Top with dressing and enjoy!
References
Schweigel, M. & Martens, H. Magnesium transport in the gastrointestinal tract. Front Biosci 5, D666-677 (2000).

Walker, A. F., Marakis, G., Christie, S. & Byng, M. Mg citrate found more bioavailable than other Mg preparations in a randomized, double-blind study. Magnesium research : official organ of the International Society for the Development of Research on Magnesium 16, 183-191 (2003).

Swaminathan, R. Magnesium metabolism and its disorders. Clin Biochem Rev 24, 47-66 (2003).
©2017 DLS HealthWorks, LLC.  Lori Shemek, PhD health expert and weight loss expert.  Author of How To Fight FATflammation! and the best-selling author of  'Fire-Up Your Fat Burn!'