5 Reasons to Try Resistance Bands
Why Use Resistance Bands?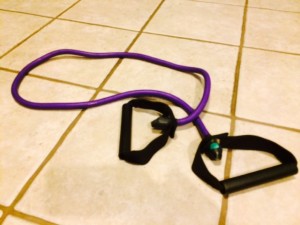 I recently responded to a question on twitter about resistance bands. I realized I hadn't used mine in a while. So I began working bands back into my routine. I was quickly reminded what a versatile fitness tool they are. If you're looking for an inexpensive, fun and easy way to build lean muscle virtually anywhere, you might consider looking into resistance bands too.
Resistance bands generally consist of two handles attached to a length of rubber hose. There are different resistance levels available and several systems that allow you to quickly switch handles and bands for total versatility. Here are 5 reasons for incorporating resistance bands into your routine.
1. Versatile and Effective
Resistance bands are an excellent addition to your fitness routine because they offer a versatile and effective alternative to a multitude of other fitness equipment. With resistance bands you can perform most of your favorite free weight exercises like bicep curls, tricep presses, lat raises and more. Resistance bands aren't limited to upper body exercises either,bands can be used to add resistance to squats, lunges, core and twisting movements. By shortening the cord, doubling it up or using approved accessories you can increase the resistance, making these bands a truly flexible fitness tool limited only by your imagination.
2. Fast and Efficient
Resistance bands can help keep your heart pumping by allowing you to move quickly and efficiently from one exercise to the next. Bands also make it possible to combine exercises and maximize your time.
One of my favorite combinations is a Squat / Shoulder Press circuit. While standing on a length of the band lower into a squat with your hands at your shoulders, raise up and then press your hands over your head. Get creative and find multiple ways to combine exercises.  With combinations, you can cut your workout time in half and really challenge yourself.
3. Affordable
This weekend, I went shopping for a second band. I wanted something a bit heavier than the medium weight model I currently use. I ended up purchasing one for $9.95 that also included a door attachment.
While I was shopping I also saw a nice system that featured handles with clips for quickly switching bands. This system was $12.99 for the handles and $7.99 for the bands. In either case, you could easily get set up for under $25.00 which is pretty reasonable for a versatile piece of fitness equipment.
4. Easy
Resistance bands are super easy to use. A word of caution however, don't step off a band while it's under tension. It's kind of like snapping yourself with a large rubber band. It stings and I know from first hand experience.
5. Portable
Perhaps my favorite thing about resistance bands is how easy they are to pack up and take with you.They are light, and take up very little room in a gym bag, suitcase or backpack. If you travel a lot or just like to exercise outside you'll love how portable they are.
Incorporating resistance bands into your fitness routine can add variety, keep you motivated and fit. They are effective, inexpensive, versatile, efficient and best of all you can use them anywhere….including outside!
Have you used resistance bands in your training? If so, what are some of your favorite ways to use them?
See you outside!
Steve
Steve Stearns is an avid outdoorsman and host of the Outside Health and Fitness podcast. He shares practical advice, resources and interviews experts from the world of fitness, nutrition and health. His goal is to help others discover new, fun and effective ways to be naturally fit, healthy and happy.