Top 5 Ways To Be Fit And Active
Everyone wants to be fit and active, to be free from lethargy and safely maintain a healthy lifestyle. Nowadays, more than gym people prefer to have physical activities and fun, dancing, indoor games to stay motivated and energized. It makes the body flexible and enables in staying fit and fine. No matter how much exercise we do, but also need to live a scheduled live to take care of our health. There are some simplest ways which are kept in mind and can be opted to be fit and active. This article will introduce you to those top 5 ways simple ways to be fit and active.
Top 5 Ways to Be Fit and Active:
1. Get enough sleep: Health professionals recommend at least eight hours of sleep. Within these eight hours of "unconsciousness" the body is given a chance to repair itself from the activities of the day, and allow the individual to be well relaxed to take on the tasks of another.
2. Healthy food: It is imperative that one take the necessary steps toward the consumption of a balanced meal on a daily basis. Meals high in protein, vitamins and minerals can do the body a lot of good and have been recommended by fitness experts as well as medical practitioners, for the maintenance of healthy lifestyles. Persons should also ensure that they consume significant amounts of water daily, and reduce the proportion of sugar that is introduced into the diet.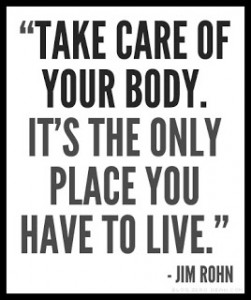 3. Exercise: Exercising is another way to improve fitness levels. It should be noted however that these should be done in moderation so as to not overwork one's muscles to the point of devastation. Exercise in itself does not have to be an expensive process, nor does it have to be mundane and the rewards will undoubtedly be endless.
4. Watch less television: Watching television in itself is not a bad thing. However, when one chooses to watch television to the extent that you remain in a single position for an extended period of time, this may prove deleterious. With this in mind, persons should seek to do simple chores such as sweeping the home, washing the dishes, cleaning the bathroom and so forth to keep the muscles active. By extension, excessive amounts of time spent around the computer can produce the same harmful effects so be careful of how your time is spent and seek as much opportunities as possible to simply get active.
5. Say no to smoking: Smoking has the tendency to be addictive and as such should be avoided at all cost. This will lead to healthy lung function and overall improved fitness levels.
In concluding, it should be noted that there are many ways one can keep fit and healthy and five of these have been listed above for ease of reference. It is hoped that you will find at least one that suits your lifestyle and stick to it. Should you choose to change your eating habits, be sure to include countless amounts of fruits and vegetables coupled with lean meat and or fish which will see improvements in your overall energy levels. Additionally, be sure to reduce your sugar intake for greater efficiency and do extensive exercises to ward off fatigue and the feelings that accompany lethargy. If you are a smoker, now is the best time to quit. You can be sure your lungs will be truly grateful to you and you will experience the benefits of that gratitude. If you are a UK resident, you can get your NI card before 16 years of age. In order to get it, you must possess documents related to birth certificate, identity card, driving license, etc.
By Jessica Cromwell
Author Bio: Jessica Cranwell is a Passionate blogger. She has been writing contents on the web professionally since 2006. As an avid reader and blogger, she shares her experience through her articles on Travel, Health, Education, Technology, Parenting and many more.