Healthy Joint Support with PRIMAL by Eu Natural!
Joint pain? You are not alone. Many people are experiencing joint pain on a daily basis and are chronically suffering with pain in their knee, shoulder, elbow, hips, hands, feet and much more.
In the majority of cases, the most common type of arthritis, osteoarthritis, causes this. There are other causes of joint pain, however, this form of arthritis affects millions of people every day and as a result, throngs of people turn to drugs such as ibuprofen, acetaminophen, aspirin as their first choice to help mitigate the pain.
The good news here is that there are other superior alternatives that not only help reduce and repair joint pain, but help to optimize health as well. The underlying cause of joint pain is inflammation. Chronic inflammation that occurs in our joints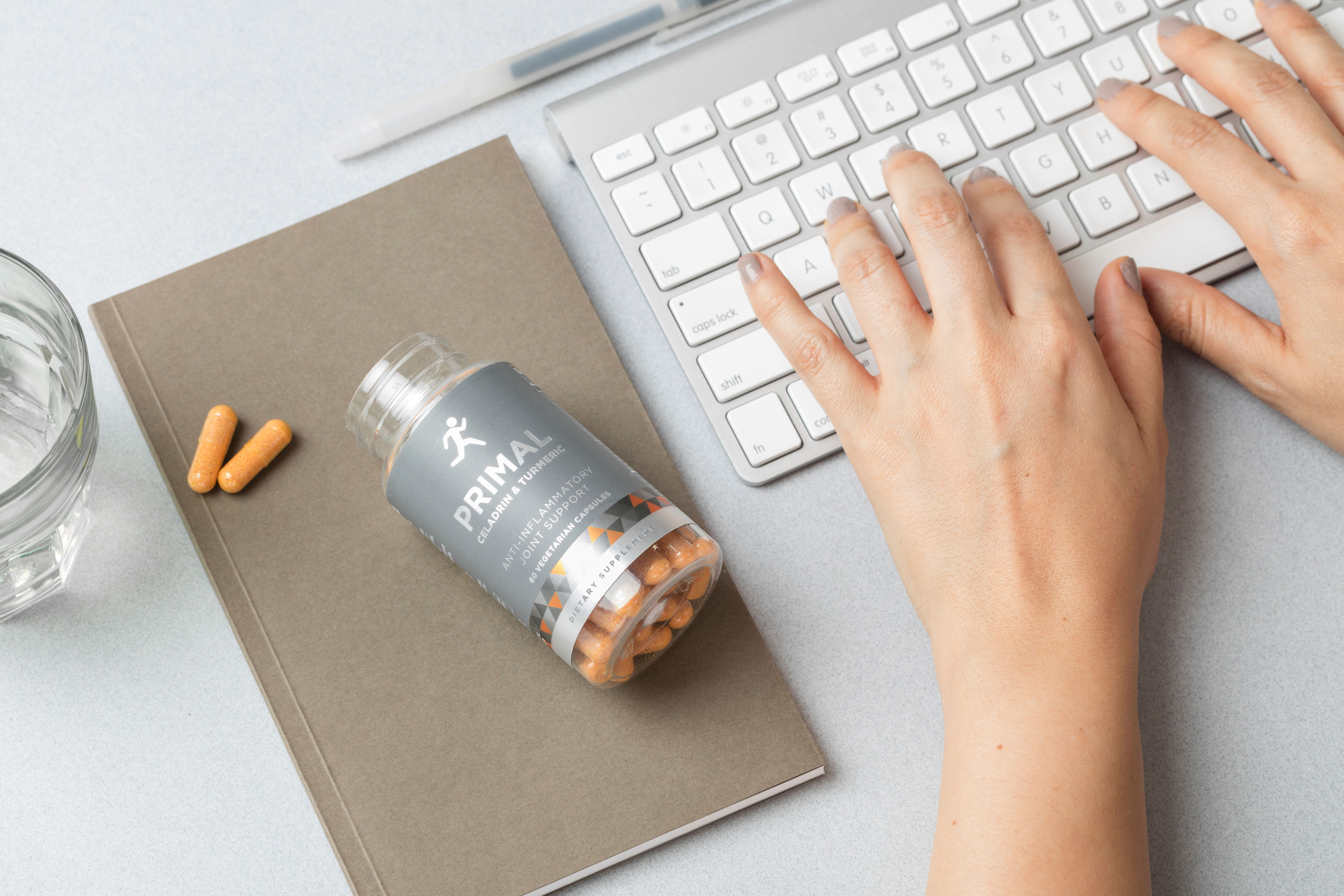 One such alternative that I am reviewing here is #1 voted PRIMAL Joint Support & Healthy Inflammation. The company Eu Natural – [pronounced 'you'] a combining form meaning "good," "well."
Eu Natural was founded in 2013 to deliver a powerful blend of herbs, vitamins and minerals. They are dedicated to using the purest and most powerful natural ingredients; no fillers or junk.
This natural pain reliever PRIMAL Joint Support & Healthy Inflammation by Eu Natural, contains an exceptional and superior combination of bio-available herbs, proprietary blends and nutrients that you can't find elsewhere. These compounds help fight inflammation, help heal tissue damage and provide you with healthy joint support. Primal is the perfect whole-body joint formula to help you resolve inflammation.
Two key ingredients help to resolve inflammation; the key to mitigating pain, stiffness and lifestyle hindrance. Eu Natural PRIMAL Joint Support & Healthy Inflammation is not just a band-aid, covering-up the pain, it is actually helping to stop and heal the inflammatory response. If you know my work, you are aware that reversing inflammation is the cornerstone of promoting optimal health, a leaner body, improved brain health and slower aging.
Having achy joints isn't any fun. However, Eu Natural PRIMAL Joint Support & Healthy Inflammation can help to change that.
The first compound is a bio-available form of turmeric that is backed by a plethora of scientific research and is one of the most popular supplements for treating pain, including joint pain caused by osteoarthritis. Though you might like to use the spice, a sprinkle of turmeric in your smoothie or soup isn't enough to give you much benefit for treating arthritis symptoms.
Its pain-relieving effects are attributed to the active component in turmeric called curcumin. These compounds are called curcuminoids, the most important of which is curcumin. Curcumin exerts a powerful anti-inflammatory effect upon the joints and other areas of the body. Research suggests curcumin also targets specific inflammatory cells and blocks certain enzymes that lead to inflammation. This process helps to prevent the downward cascade of joint degeneration.
Additionally and importantly, research has shown that turmeric extract was as effective upon knee osteoarthritis pain as ibuprofen (a type of nonsteroidal anti-inflammatory drug).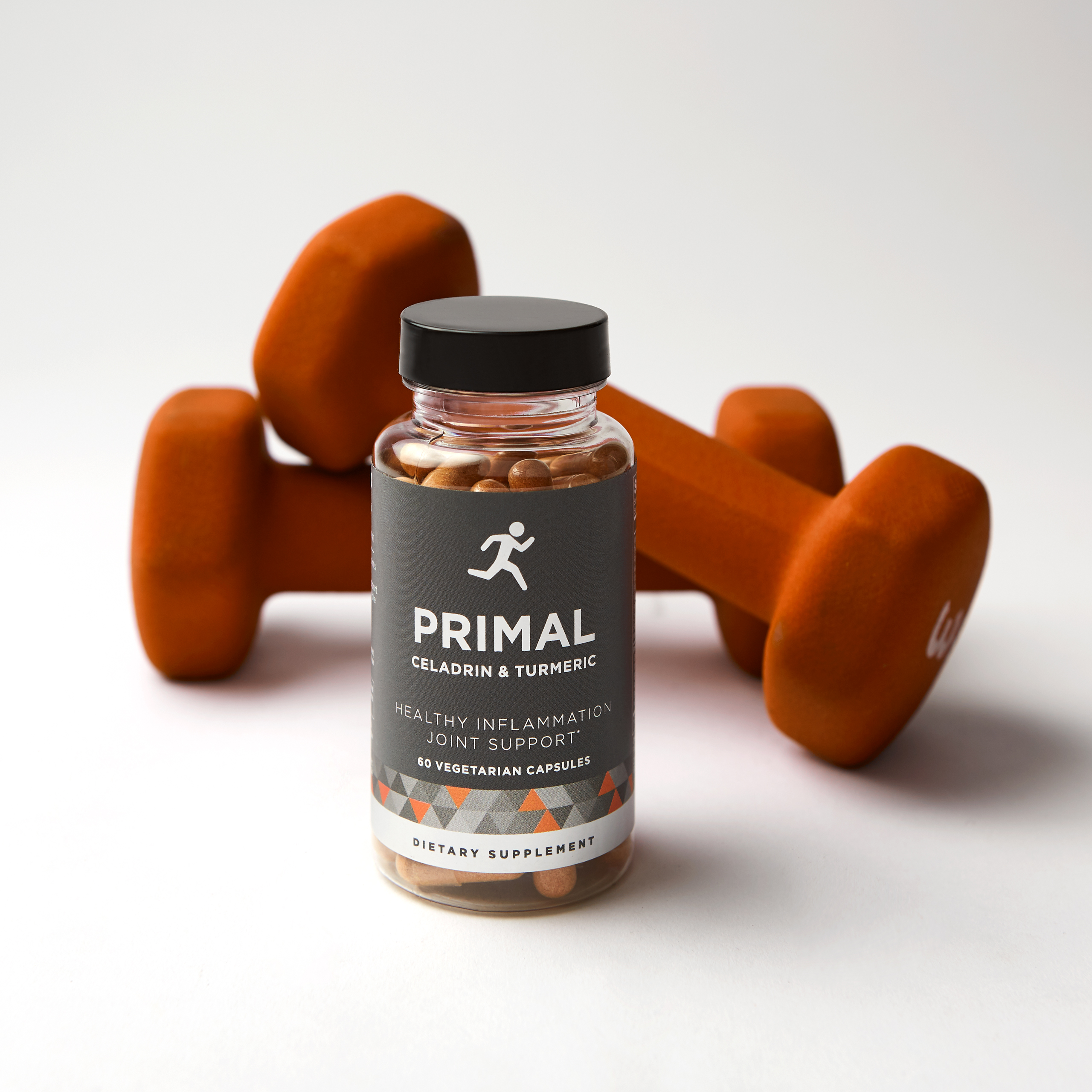 Turmeric also provides other health benefits:
It serves as a powerful antioxidant
Promotes improved brain function
May lower the risk of heart disease
Can help prevent cancer
May help protect against Alzheimer's Disease
Shows promise in treating depression
And much more.
The next key ingredient is Celedrin is a natural compound in this formula that science has shown to help reduce inflammation, pain and promote joint function and mobility. Celedrin is a proprietary blend of special esterified fatty acids that has a powerful effect upon inflammation with joint health and pain.
Celedrin helps in reducing the production of inflammatory compounds, prostaglandins (by blocking the COX-2 enzyme) and helps to reduce tissue damage.
The combination of turmeric, celedrin and the supporting nutrients in Eu Natural PRIMAL Joint Support & Healthy Inflammation, such as Boswellia, ginger extract, patented boron and BioPerine, vitamin D3, B complex, zinc and selenium and many more.
I highly recommend the PRIMAL Joint Support & Healthy Inflammation supplement as it is backed by scientific studies and research attesting to their effectiveness and health outcomes. This is a superior product in terms of quality, ingredients, effectiveness, and a great value.
References
https://www.ncbi.nlm.nih.gov/m/pubmed/29808705/?i=1&from=celadrin
https://www.ncbi.nlm.nih.gov/m/pubmed/15903393/?i=3&from=celadrin
https://www.ncbi.nlm.nih.gov/m/pubmed/12180734/?i=4&from=celadrin
https://www.ncbi.nlm.nih.gov/pmc/articles/PMC2533857/
https://www.ncbi.nlm.nih.gov/pmc/articles/PMC5003001/