Healthy Dark Chocolate Keto Brownies with Frosting
If you love delicious, decadent brownies, this is a must try recipe and the best part is you do not need a special celebration or holiday as an excuse! Why? Because they are healthy. They are packed with healthy fat, quality protein and fiber. I have to say my batches never, ever last long!

Many people are looking to keep their carb intake lower, blood sugar balanced and this truly delicious recipe will help you do this.
Keto brownies have a very low net carb count – even with frosting. One moist brownie yields a mere 3 grams of net carbs and zero sugar. These brownies are keto-friendly as they are made without sugar, without grains, and without any non-keto approved ingredients. Made with healthy almond flour and sweetened with monk fruit sweetener, it is very low carb and sugar free! Try them with the keto chocolate frosting as well.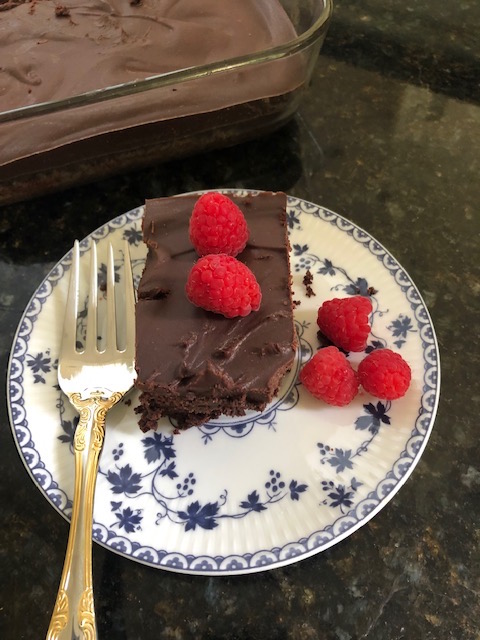 INGREDIENTS
1 cup fine almond flour

1/4 cup cocoa powder

2 tbsp dutch cocoa powder

1 tsp baking powder

1/2 tsp salt

1/3 cup melted butter

3 tbsp water or additional oil

2 large eggs

2/3 cup monk fruit sweetener

2 tsp pure vanilla extract
INSTRUCTION
Preheat the oven to 180C/350F. Line an 8 x 8-inch pan with parchment paper and set aside
In a mixing bowl, combine all of your dry ingredients and mix well
Combine butter with half the chocolate and melt on medium heat until warm and melted. Whisk together until glossy and combined.
In a separate large bowl, add your eggs and using a mixer, beat the eggs until slightly frothy and all is combined.
Slowly add the chocolate and butter mixture to the egg and continue mixing
Add the dry ingredients slowly, continue mixing until a thick batter is produced.  Add in chocolate chips.
Grease an 8 inch pan. Mix all ingredients well. Spread evenly into the pan. Smooth down, Bake 20-25 minutes on the center rack, then let cool completely and they will continue to firm up. The brownies are delicious with or without frosting.
Super Easy Dark Chocolate Keto Frosting
Ingredients
1/3 cup whole milk
4 teaspoons butter
1 package (8 ounces) no sugar, stevia or monk fruit sweetened dark chocolate chips
2 teaspoons vanilla
Instruction
Ensure brownies have cooled completely before frosting.
Combine butter, milk, chocolate chips and vanilla in a small saucepan.
If too thick add an additional small amount of milk.
Once chocolate chips have melted, immediately pour over brownies. Smooth over brownies. Let harden for 10 minutes or more in the fridge. This frosting can be doubled. Enjoy!

*Be sure to NOT let this frosting sit or it will harden immediately