3 Keys to Living Well and Healthy I Learned While Visiting Loma Linda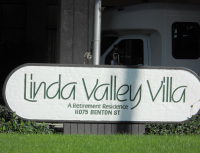 Recently my buddies Jason Scott Johnson, Craig Spivek and I visited the residents at Linda Valley Villa in Loma Linda, CA to do interviews for an episode of Jason's BeyondFitnessTV.com show. Loma Linda is one of 5 "Blue Zones" as described by Dan Buettner in his book by the same name. These are areas in the world where people have the longest, healthiest and best lives. Loma Linda, CA is the only one in North America.  The other areas are: Sardina, Italy; Okinawa, Japan; Icaria, Greece; and Nicoya, Costa Rica. In fact each of these areas have 10 times (per capita) the amount of people over 100 than the United States as a whole.
There are commonalities among all 5 of the Blue Zones communities.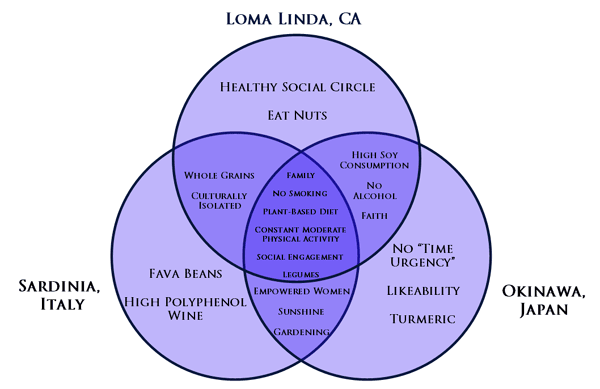 While at the Linda Valley Villa (which was also visited by Dan Buettner), I noticed that the residents were very friendly and engaged with one another.  I've been to nursing homes and assisted living facilities and what stood out at Linda Valley Villa was the closeness of the people living there.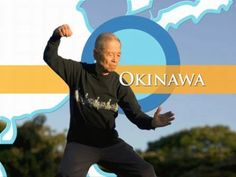 In every one of the Blue Zones, social engagement is an important part of their lives. That's probably one of the reasons why people who attend church regularly live longer. I remember living in Okinawa as a child and how the community supported the elderly (and the young). In years past, it used to be that way in the United States. In my opinion, modern society has moved away from true health and fitness.
I can tell you that it was a "breath of fresh air" meeting the residents at Linda Valley Villa. Even though they were excited meeting the three of us, I certainly was more excited meeting and talking to them. Some of their stories kept me "on the edge of my seat" as I listened. We were there for 5½ hours. Even that didn't seem long enough. Jason and I played ping pong with an 84-year-old gal. Jason played her first and me next.  Well, we got our booties kicked… BAD!  She told us to go practice for the next few months and come back again when we feel that we're ready to challenge her. It was fun and it showed that at any age one can keep going and performing well.
There was one couple who has been married for nearly 72 years (their anniversary is in August 2014). They met while in the 9th Grade and were married in 1942. He is a retired general surgeon and she a retired marriage and family therapist. Both retired at the age of 87 in 2007. It was their stories that most amazed me and I'll have to save that for another day.
In my visit with Jason and Craig, I learned 3 things that stood out and showed me that what I've been teaching others does work for the long term.  While I described the importance of community, there are these other 3 keys that I want to share (and re-emphasize) with you.
Engage in consistent exercise and movement.  A couple of the ladies the Linda Valley Villa walk 4 miles per day.  Many of the residents travel a short distance to a local fitness center to workout.  I noticed there were a lot of movement going on and that is a major key.  These residents did not sit around doing nothing.  In the lobby area, where the residents could engage in conversations with each other, there were no television.
Eat healthy foods and mostly a plant-based diet.  When Jason, Craig and I ate lunch at their cafeteria, it was all plant-based (organic and non-GMO).  The faith of the Seventh-Day Adventists emphasize eating a plant-based diet.
Mutual support from family, friends and community.  Everyone there supported each other. They encouraged physical movement and faith.  They were highly engaged in every way.  All consider others in their community as family.  I've never seen the kind of support in the United States as I did at Linda Valley Villa.  I believe that if we were to have the same attitude across the country and in other parts of the world, our health be much better.
Overall, the residents were very positive folks. I also heard that they have a very fulfilling and healthy sexual life as well. No Viagra needed for the men. I learned a lot and will embrace it all.  I look forward (with a smile) to the latter days of my life. I know it will be wonderful as I follow these teachings.
Jason will be sharing the footage we shot on his show soon. For now, take the lessons I learned and apply them into your own life. As Mr. Spock once said, "Live Long and Prosper."
Cheers, Bob Choat

"Transformational Master Black Belt" America's #1 Mind-Body Transformation Expert and author of Mind Your Own Fitness
bobchoat.com | optimallifeseminars.com