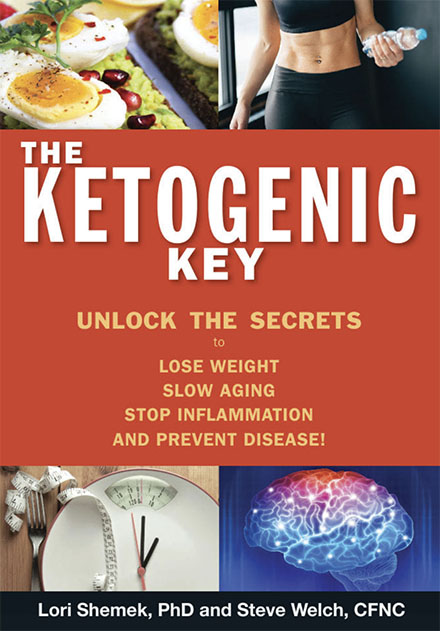 It's available now: the definitive book about all things keto! Best-selling author Lori Shemek, PhD (Fire Up Your Fat Burn! and How to Fight FATflammation) and keto coach Steve Welch, CFNC, go BEYOND the ketogenic diet to teach you 4 techniques of The Ketogenic Key lifestyle to successfully achieve and maintain ketosis! Ketosis is the "Key" to unlock a treasure trove of extensive benefits to your health, energy levels, physical performance, and well-being.
Delve into The Ketogenic Key as it comprehensively explains these 4 keto hacks: 
Ketogenic Nutrition
Intermittent Fasting
Ketone Supplementation
Exercise and Activity
With The Ketogenic Key, you will learn how keto lifestyle techniques, with and without ketogenic dieting, can supercharge the following: 
Fat Loss
Fitness and Athletic Performance
Cognition and Mental Health
Immune System Function
Longevity
Heart Health
Respiratory Function
Help Fight Cancer
and much more!
The Ketogenic Key discusses how ketosis can help you manage, halt – and possibly even reverse – type 2 diabetes. And it will help guide your low-carb and keto meal planning, thanks to a comprehensive section of delicious recipes and food ideas, including lists of what to eat and what not to eat!
The authors also discuss why ketones are more than just a fuel source by breaking down how ketones serve as signaling molecules in the body to help suppress inflammation, fight reactive oxygen species, and optimize gene expression and DNA repair.
The Ketogenic Key techniques are backed by science and research, and the authors include a comprehensive section that highlights scientific articles, clinical trials, and reviews, and summarizes the key takeaways of more than 140 ground-breaking scientific and medical studies!
REVIEWS FROM INTERNATIONALLY KNOWN HEALTH EXPERTS AND AUTHORS!
"This ground-breaking book, The Ketogenic Key, is so much more than just another keto diet and recipe book. The authors leave no stone unturned as they demystify ketosis, and give you simple, clear info about why ketosis works so well, how it can improve multiple aspects of your health and well-being, and a step-wise approach that shows how you can get the benefits of ketosis, with and without strict dieting! This is a must-read for anyone who is keto-curious!"
– JJ Virgin, author of New York Times Sugar Impact Diet
"The Ketogenic Key is a powerful and compelling read backed by science! If you want a book that delivers sound advice, busts many myths and misconceptions about the ketogenic diet, and explores other techniques to optimize and maintain ketosis, then this is the book for you."
– Dr. James DiNicolantonio, Cardiovascular Research Scientist and author of The Salt Fix, Superfuel, and The Longevity Solution
"As host of a syndicated health radio show for 20 years, I've had the honor of interviewing all of today's leading diet and nutrition experts. I've also read their books. Dr. Shemek's Ketogenic Key is the most simplified and informative book ever written on the topic! She busts all the keto myths and gives you the key to unlock your genetic potential, reach your ideal weight, and achieve optimal health."
– Dr. David Friedman, international award-winning, #1 best-selling author of Food Sanity
"Lori Shemek and Steve Welch do a great job of covering everything you need to know about ketosis, and they do it in an easy to understand way."
– Maria Emmerich, international best-selling author of Keto: The Complete Guide to Success on the Keto Diet
Get your copy of The Ketogenic Key today, and unlock the secrets to improve your health and life, forever!