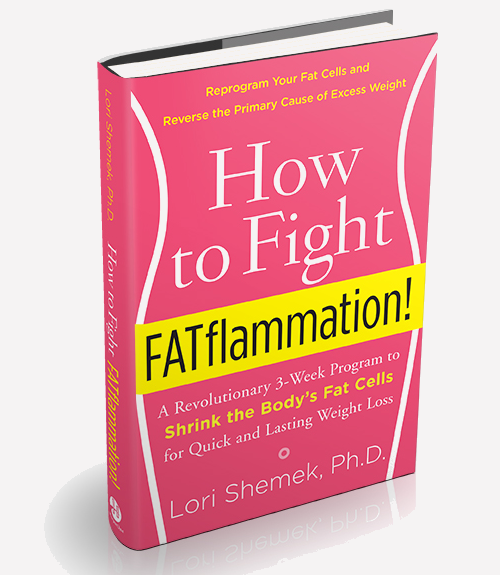 "FATflammation is the primary underlying cause of weight gain," leading fat cell researcher Dr. Lori Shemek explains. "It's also the reason why we have such a difficult time losing weight."
FATflammation is a chronic, silent, and dangerous inflammation that takes place in the fat cells themselves. The more bloated fat cells become, the more weight people gain, which spurs an unrelenting cycle of increased fat cell inflammation and weight gain. Breaking this vicious cycle is key to losing and keeping off the excess weight.
In How to Fight FATflammation! Dr. Lori Shemek lays out her very easy three-week program that helps you reboot your body chemistry by returning your body's fat cells back to their natural, healthy state. By changing the way fat cells operate, the FATflammation-Free plan trains your body to naturally stop your fat cells from over expanding. As your body begins to reduce the cell inflammation, your fat cells heal and unwanted pounds melt away.
Critical Praise:
"How to Fight FATflammation leverages the newly discovered relationship between gut bacteria and signaling systems in body fat to provide a rock solid program to curtail inflammation and enhance weight loss as well."
~ David Perlmutter, MD, New York Times best-selling author of Grain Brain
"Inflammation forms the root of nearly every disease and creates weight loss resistance. In her new book, Lori Shemek provides a groundbreaking three-week plan that reduces inflammation to help you gain perfect health and fast, lasting fat loss."
~ JJ Virgin, New York Times best-selling author of Sugar Impact Diet
"It can't be said any simpler. When we are inflamed we are unwell, overweight and hopeless. Finding our way back to health may be as easy as quashing inflammation."
~ Tosca Reno, New York Times bestselling author and Founder of the Eat-Clean Diet®